Get to Know CVS Coordinator Lange Powell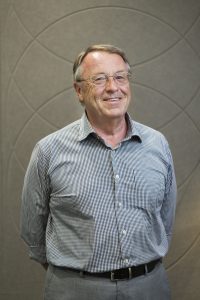 Lange Powell is the Community Visitors Scheme (CVS) Coordinator at St Jude's Anglican Church in Brighton, South Australia, and one of the team working with the Lutheran Care-led group to promote the CVS across the state.
Born and raised in Brighton, England, Lange has a rich resume of public service, in senior human services roles in the South Australian Government including as a Commissioner for the Ageing; volunteering around the world; and as a former public member of the Australian Press Council.
Get to know Lange and his role in the CVS a little more here:
How long have you been the CVS Coordinator at St Jude's Anglican Church? How did you come into the role?
I took on the CVS Co-ordinator position in 2014, at the invitation of the parish priest at the time, Rev'd Chris McLeod.
For me it was an ideal opportunity after retiring from career employment. It opened an avenue for maintaining my interest in aged care and in the quality of life of older people; it built on my past experience in volunteering; and it offered flexibility and plenty of creative freedom in developing and managing the Scheme.
St Jude's was one of the first local agencies to host the Community Visitors Scheme after it was launched by the Australian Government in 1991, and several of our volunteers have been with us for many years.  It's a rewarding and very people-focussed activity, and the modest scale on which we operate (we have just over 20 active volunteers), means that we can maintain that 'personal touch'.
Have you been a volunteer for this and other programs? I read that you volunteered in Madagascar for several years. Please tell me about that that what draws you to volunteering.
My volunteering started after I left university.  I spent a couple of years teaching in a country school in Madagascar, with a British overseas aid agency similar to Australian Volunteers Abroad.
Volunteering has always been important to me – partly for the 'opportunity to contribute to the community' which most volunteers talk about as a primary motivation.  But at least as much for the interest and new perspectives it gives to me.  For example, the 19 years I spent as a member of the Australian Press Council introduced me to a whole world of newspapers, editors, journalists, and the vast range of people from all walks of life who engage with them.  It was a wonderful and enriching experience that my professional life alone would never have been able to provide.
The principle that volunteering with the Community Visitors Scheme should be as rewarding for the volunteer as for the older people they visit and befriend, is one which I emphasise to everyone who applies to join our Scheme.  I think it's very important – like in any friendship, the growth of trust, warmth, stimulating conversation or activity, and even (sometimes), a degree of emotional intimacy needs to be mutual for the relationship to thrive.  I hope our volunteers feel that way about their commitment.
Please share a little about your background, such as your career in the public sector and around social services, and as Commissioner for Ageing in South Australia.
After the time I spent in Madagascar, I kept travelling to visit my father's family in Australia, and have stayed ever since! My working life in Australia career started with several years in an Aboriginal community in Arnhem Land (NT); and since then I've kept an interest in Aboriginal communities in traditional, regional and urban settings.
Moving to South Australia in 1975, my work has been in a range of human services - child and family welfare, public housing, Disability Services, and adult Correctional Services, both community-based and prisons.
From 1990-1995, I was the second SA Commissioner for the Ageing.  The role was to advise the State Government on issues affecting older people, other than those which were the responsibility of the Australian Government (pensions and aged care, for example).  As such, it covered a wide range of interests and concerns – housing options, transport, health services, age discrimination, elder protection, consumer protection, multicultural dimensions of aged services, and many other issues.
And volunteer opportunities for older people!  Most retirees want to remain active in their community, and encouraging organisations like Volunteering SA Inc (later to become Volunteering SA & NT), to develop programs and opportunities for older volunteers was one of the proposals we pursued.  The relevance of this initiative is still very much in evidence today; half of the volunteers with St Jude's CVS for example, are aged over 60, and it's great to have such a mix of volunteers with varied and colourful life experiences.
What are your personal interests?
When we retired, I and my wife, Inara (also with a long career in human services), decided to branch out of the professional fields where we'd been for many years.  We did a lot of remote outback travel, but after a few years thought it'd be rewarding to get to know an area of outback country more intimately than extensive 4WD trips allow.
So we became active volunteers with Nature Foundation (https://www.naturefoundation.org.au/), a not-for-profit organisation that invests in conserving, restoring and protecting SA's landscapes, flora and fauna.  Among several other programs, the Foundation operates two large Nature Reserves (Witchelina, in the Far North of SA; and Hiltaba in the Far West).  We are part of a team that goes and manages the Reserves for a week or two at a time, in total for around eight weeks in any year.  We've been particularly active in encouraging visitors to the Reserves – laying out self-drive tours, writing interpretive materials etc.
What is the one thing you would like people to know about Community Visitors Scheme?
I hope different people will take away different message about the CVS, according to their needs and preferences.  The recent Royal Commission into Aged Care Quality and Safety, for example, found that there was limited awareness among older people and their families about the Scheme, suggesting that more effort could be put into promoting it to the people whose quality of life might be enhanced by receiving regular visits.
For prospective volunteers, I would emphasise the mutual rewards that CVS visiting can generate.  Like any friendship, it can require commitment and, sometimes, patience – but the overall experience is usually enriching for both parties.
And finally, I'd like to emphasise that CVS volunteering can be for everyone!  Warmth, good listening ability, and an interest in people – these are the personal qualities we look for. Age, work background, education are not important – and nor is a volunteer's culture.  St Jude's CVS has volunteers from half a dozen different countries, and I think the Scheme can be proud of its capacity to welcome such diversity.